Ballpoint Bullet-Pen Brass
The BRASS Ballpoint Pen is a perfect companion on the road. It offers a smooth writing experience that is as versatile as comfortable and can easily be used on all the TRAVELER'S Company refills.

Its uniquely clever design features a distinctly small size with the cap on, but once removed and screwed onto the back, it transforms into a comfortable, full-size pen. Its small footprint makes it an excellent choice to take with you on your travels.

The BRASS pens are made in a small factory on the outskirts of Tokyo. This facility was originally built as...g.
Ohto Needlepoint pen tip
Brass barrel casing
Nickel plated top
Loop to attach a ring or cord
QUESTIONS? WE ARE HAPPY TO HELP : )
If you have any questions feel free to give us a quick call (+31(0)20 2237071) or use the Whatsapp function (Whatsapp geht auf Deutsch). We can also plan a short video call to show you the product live in more detail.
SEE IT LIVE VIA VIDEO CALL:
We understand that online shopping has its limitations. So if you would like, we can easily arrange a video call with our Amsterdam store team where you can ask all your questions and we can show you the product in full detail. Of course, no strings attached!! (Geht auch auf Deutsch) Please contact us via the WhatsApp button to schedule the video call.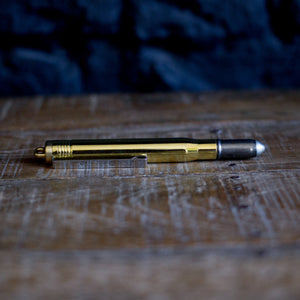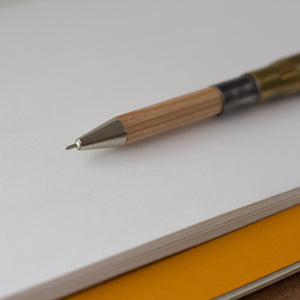 I'M GOING TO SEE THE WORLD
Follow us on Instagram for fresh travel inspiration for the conscious globetrotter, directly from us for you.